Radioshack 900MHz Portable Headphones Review
I own a pair of Radioshack 900MHz headphones, they are rechargeable portable headphones that can be found at your local Radioshack for $69.99. These headphones have a 150 foot range and use three nickel-cadmium batteries that hold a charge for about four or five hours. The sound quality is great and they can be used while you are cleaning the house, doing yard work or grilling out back, they are basically for use around your home and property.

They can be plugged into just about anything that makes sound, they have AV input red and white wires and come with an adapter for the computer or stereo input jack. They come with a base that is used to recharge the headphones while not in use. The bass on these headphones definitely thumps and they are quite comfortable and light to wear considering there size.

The Radioshack 900MHz headphones are great headphones, but outside of there 150 foot range they are useless. This means that you can't take them jogging or out on a bicycle ride. You can use them in the car or you can use them while exercising in your house. They seem to be prone to receive a lot of interference and the batteries take a long time to charge. The batteries also need replacing every three or four months as they can no longer hold a charge after that period.

One problem I did have with these headphones is that the ear rest cushions fell off on both ears and the plastic broke after only a couple months of use. I was able to glue them back together and it wasn't a big deal, but that was one part of these headphones that was poorly made. Also the sheer size of them takes up a lot of space on your desk. Sometimes you will get reception at more then 150 feet maybe even 250 feet, it will be spotty though it is definitely a bonus.

In conclusion the Radioshack 900MHz portable headphones are good headphones for use around the house and have great sound quality, they are a good buy for $69.99. Don't expect to stray too far away from your property with these though, think like it's a cordless phone. It will get static if you stray too far away or come into contact with interference, it will also start cutting out at high volume if the battery starts dying.The bottom line though is that they are a good pair of all purpose wireless headphones.
---
Latest Articles
Headphones: An Overlooked Invention

Go for the Sights

To edit, click on the text to start adding your own words.

Go for the Warmth

To edit, click on the text to start adding your own words.
Powered by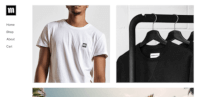 Create your own unique website with customizable templates.